Assemble/Disassemble Components
If the Moldbase Definition dialog box is still open close it with .
Activate Style VIS0001
While creating the EMX assembly TUTOR.ASM a rule based style VIS0001 was added. Activate this style in the Pro/ENGINEER View Manager | Style.
Assemble EMX components
In the stored EMX assembly not only plates but also screws, leader pins and other components are defined. By default this components are not assembled in the Pro/ENGINEER assembly.
Note: In huge moldbases many additional components might be included that will slow down the handling of the 3D assembly. This is the reason why EMX allow the setting of the assembly state for individual component types.
Open the Component Status dialog box with EMX > Mold Base > Component Status.
Press to activate all component types.
Note: Function units like Sliders, Lifter and Library components can not be deactivated in the current release. They create their cutouts in plates using a surface copy. When disassemble them all this cutouts would loose their references. In future releases of EMX it is planned to assembled even such components with a different mechanism for generating cutouts, then even they can be disassembled during the design.
Press . All active component types are assembled. As EMX has stored their position and instance properties in the skeleton references the user does not have to specify anything.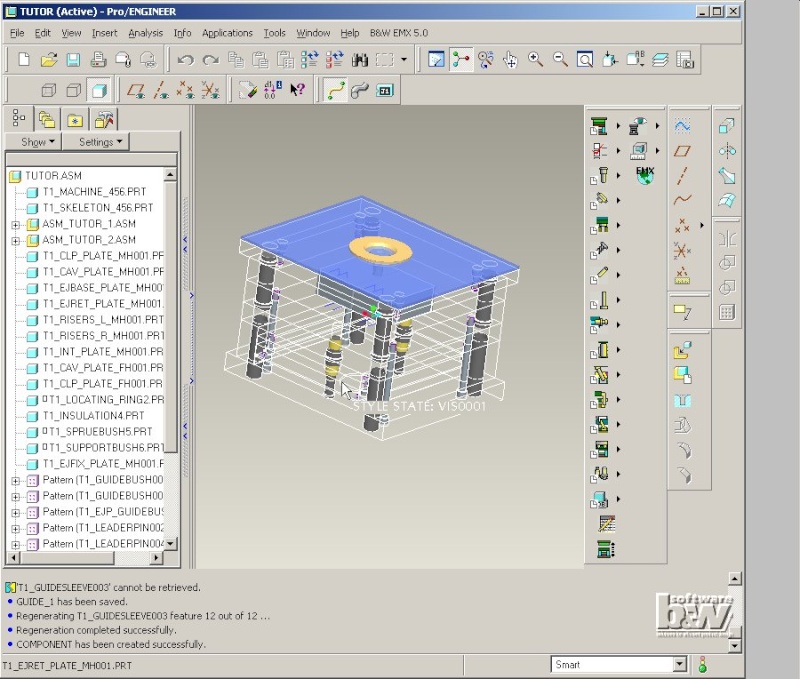 Check the Bill of Material
Select EMX > Bill of Materials.
When clicking a component in the Model Tree of the Bill of Material dialog box it gets highlighted in the 3D assembly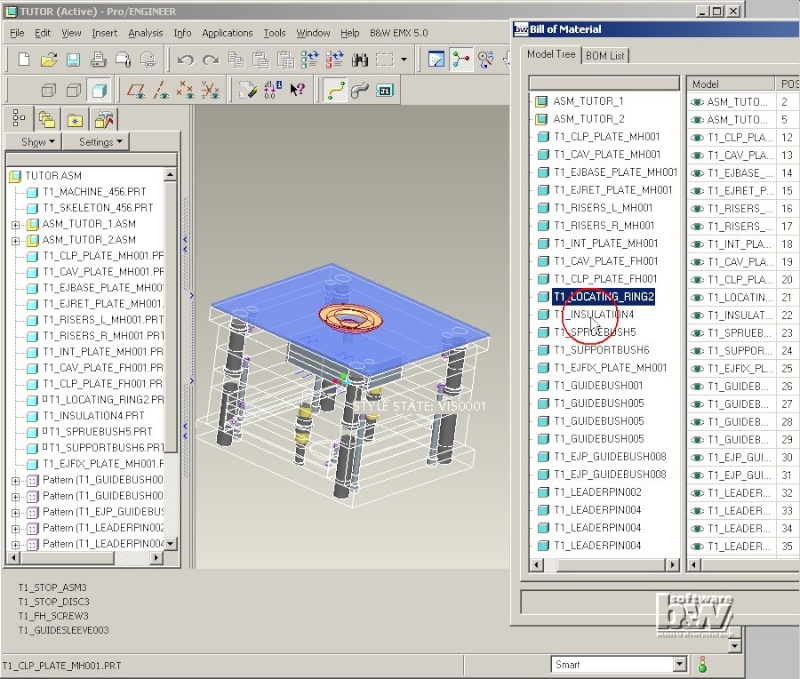 Note: Only assembled components are listed in the EMX BOM. Before printing the BOM make sure all component types are assembled using the Component Status dialog box.
To change the BOM parameters of any component Rightclick the Model column in the Model Tree view. To remove a component from the BOM List Click its Model Column in the Model Tree view with the left mouse button. The Visibility Icon will switch from to . Read the EMX Reference Guide to learn more about the Bill of Material dialog box.
Close the Bill of Material dialog box with .